Speech Coach Pam Volz
I Am Available To Talk To Your Group!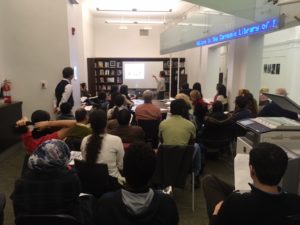 Speaker Opportunities for your next Association meeting or Corporate Training event.
Contact me to discuss your groups needs and how I can help your association or employees take their communication to the next level. I offer a variety of  topics that include specific ways to improve your speaking skills for professional impact.
Recent Training Events includes
The Carnegie Library of Pittsburgh
4-Week  Workshops  
Carnegie Library of Oakland,  Squirrel Hill Branch,
Downtown & Business Branch and the Beechview Carnegie Library.
Fun and Interactive. Learning included .mp3 recordings for weekly practice.
"Weekly workshops help you feel at home while you gain better speaking skills."
"I found Pam's English pronunciation class at the Carnegie Library by recommendation of one friend—"this is really professional " he told me. During the next several weeks, along with other non native speakers from diverse parts of the world, we went through all the tricky syllables for foreigners and learned how to correctly use the melody in sentences. Pam is so nice and patient! She brings to you the confidence in English speaking and makes her class a sweet home for those English learners in Pittsburgh. What I gained at Pam's class is not only better English speaking, but also some of the best memories in Pittsburgh."
Jie C.- Native Language: Mandarin
Visiting Scholar, PhD.- Health Policy
"Attended Workshops and Subscribes to the free Talking NEWS-letter"
"Pam's pro-accent coaching is no brainer! She makes everything simple to grasp and put into practice. And she works more like an anthropologist! She understands the challenges of each speaker who is not born and brought up here and makes her lessons extremely easy to handle and make life simpler. I would recommend her class and materials to anyone looking into improving their verbal American English. In fact, I practice her lessons whenever she posts something new and it makes a world of difference."
U.D., Native Language: Bhutanese
self-employed