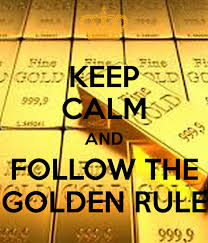 I have always been a visual learner compared to the variety of adult learners using "accent modification". Just show me what to do and I can take it from there. In school, it wasn't about getting A's that motivated me. It was thinking about the creative approach to my projects or how to teach speech and language in a fun way that got my juices flowing! I am a creative thinker.  So this piece of advice is- as they say- right up my alley- when it comes to practicing what I am about to teach to you.
How do you get your speech from   "Hey, I am speaking English okay"     to    "WOW. No one is noticing my speech because I  am speaking clearly!"
Follow the Golden Rule.
Really the Golden Rule is one word.
execution
               exe-c'YOU-tion
Speaking English clearly is about YOU.
Accent Modification is not a "one-size-fits-all" approach. Sure you can watch videos about pronunciation. You can read books about accent modification. You can know everything there is to know about the sounds in the English language.
Find a qualified accent modification professional to listen to your speaking style and learn what it is about your speaking style that will give you the most needed changes. With the right tools, all that is left to do is to execute it.
Practice! Practice! Practice!
Discovering what works for you will help make fast effective changes in your speaking skills. We all want quick results. We all want to save our money and do it ourselves. But this is about improving your conversational skills. 
And it takes two to have a conversation. 
Success is where opportunity meets preparation. 
Let's start the conversation.
Click here to  Call me or Email me today
To your Success,
Pam
Pam Is Definitely The Right Person To Help You
"The months I spent with Pam during my coaching were just incredible. Before starting her program I really was struggling with my pronunciation to the point that it was affecting my communication skills with native English speakers. After I finished my coaching, my pronunciation improved dramatically. 
I noticed people were able to understand me at the beginning without the necessity of repeating some words several times until they got it. This has also improved my confidence to make a speech in front of an audience, in fact, I have been able to even give lectures. If you are looking to improve your accent, Pam is definitely the right person to help you."
Pam Is Great. She Really Nails The Job.
"Pam is great. She really nails the job. With her help, I not only found what was problematic with my pronunciation, but also learned the correct way to produce correct sounds. She is also a lovely person, who makes me smile despite the stress of interviewing. 
I enjoyed every minute with her and the program." 
Pam Always Strives to Make The Class Interactive and Fun.
"I am a Speech-Language Pathologist from India who is looking to pursue a career in the U.S. Therefore, having a good American accent is crucial to succeed in my profession.
Pam is genuinely a passionate and jovial person who always strives to make the class interactive and fun. Thank you so much Pam, for your wonderful classes, feedback, coaching and all the supplemental material you provided me. Keep up your good spirit."
Pam Is A Genius In Her Field
"If Pam can fix my English, she can fix anyone's. I had several problems specially when I was trying to speak through the phone, or when I was nervous. In my work I am required to speak frequently so it was sometimes embarrassing and sometimes funny. Wow, the change was amazing. Within weeks after starting my private lessons I was able to have fine phone calls. Even my iphonesiri app started to understand me! Now everyone can easily understand what I say and it's easy to communicate".
My Presentation Was Great!
"I do not know how many times I will say thank you, but you helped a lot! Thank you! Thank you! My presentation was great. My professors and colleagues have told me that I improved a lot in my speaking. I am really so happy."
Pam Helped Me Decipher My Accent
"Pam helped me decipher my accent and basically broke it down so I can work on changing it when needed. She has worked on correct pronunciation and breathing techniques even just to open my mouth more to create the voice I find more preferable. It just takes practice and patience but it's well worth the effort."
Her Program Is Useful For Helping To Learn Pronunciation
"I had only 6 lessons with Pam and I would have had many more, but I am unable to due to my short stay in the United States. Her program of accent modification is not only useful for people who know the language and want to speak without an accent, but also for people, like me, who are learning English and have a difficult time with pronunciation. That's why other people often didn't understand me!
Pam is a wonderful and friendly woman who helped me with her patience and professionalism. "